Capture
"For you the war is over": Becoming a Kriegie
Whether they surrendered alone or with others, attempted to hide and evade capture, or were turned over to enemy officials at the point of a pitchfork by civilians, the first moments of captivity were always anxious ones for a new POW. Initially, most American POWs were airmen, who descended at the average rate of 400 per month in 1943. In June 1944, the Germans held captive twice as many US Air Force personnel as ground force troops. This situation reversed itself after the confusion and heavy losses at the Battle of the Bulge in December 1944, when nearly 23,000 Americans, mainly infantrymen, were captured—4,000 in one day alone. German soldiers often proclaimed, "For you the war is over!" to surrendering English-speaking soldiers, thus signalling that the routine they had come to know as combatants was gone, only to be replaced by a new routine of waiting.
Captured: Paul Hayslip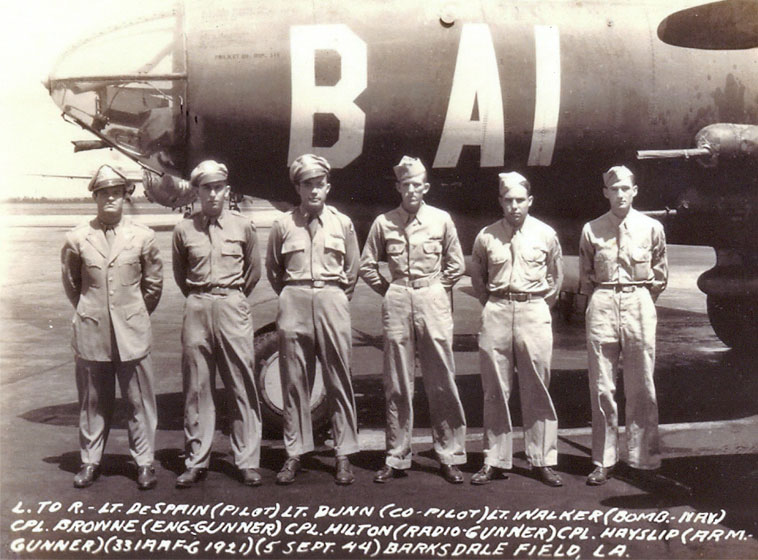 Paul Hayslip served with the 8th Air Force's 17th Bomb Group as a gunner on the B-26 "Ramblin' Wreck." On 24 December 1944, on a mission to bomb the railroad bridge at Singen, Germany, the plane received a flak hit in the left engine and spun into a crash. Hayslip was the only one of the crew able to parachute to safety and captivity. Sergeant Hayslip (pictured far right) and his crew at Barksdale Field in Louisiana.
Life of a Letter
In letters sent thousands of miles across the globe, families on the Home Front detailed their everyday lives in a struggle to maintain contact with their loved ones overseas. Some of these letters returned unopened, marked "Missing." In many cases it would be months before word was received confirming captivity or worse. The Adjutant General's office was responsible for sending the official word of a serviceman's status to his next of kin. However, the responsibility for reporting to various nations about the circumstances involving a serviceman's captivity fell to the International Red Cross, based in Geneva, Switzerland. The Red Cross' efforts were directed by the Central Information Agency on Prisoners-of-War which maintained an index tracking prisoners on 45 million cards. Communication and delivery of over 120 million messages proved a bureaucratic nightmare that played a significant factor in shaping morale and maintaining or threatening sanity both on the Home Front and battlefield.
Captured: As Seen by the Germans
German propaganda newsreel footage from Die Deutsche Wochenschau (German Weekly Review), begins with the air war over Europe. American bombers match up against German fighters in combat—fall under attack and go down in flames with surviving airmen captured. Later footage, shot during the Battle of the Bulge in December 1944, portrays the sheer number of Americans subjected to German barrages and ultimately captured during this phase of fighting.